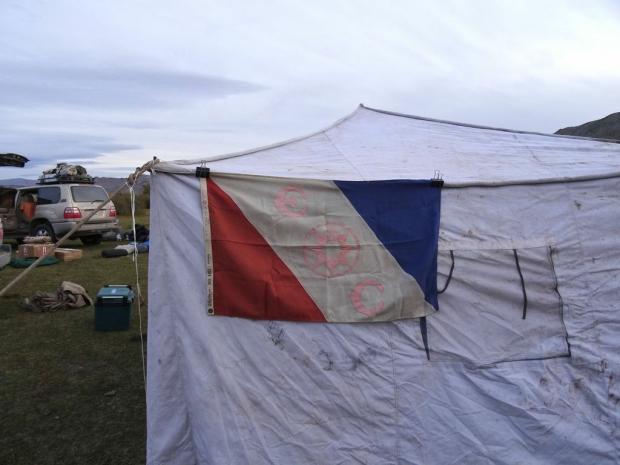 Day 1...Sept. 17...Olgii to Tsengel.Tsengel Camp

GE
Lat. 48.56'57n
Long.89.7'39e
Spot
Lat.48.961483
Long.89.134955

The distance from the regional airstrip in Olgii to our trailhead at Shiveet Khairkhan could be covered in a single day's drive using our refitted Land Cruisers, but our flight arrived in Olgii in mid-afternoon and we needed to break the journey at the small town of Tsengel. Tsengel sits along the Tsagaan Gol, the White River, at a place where the stream has slowed to a meander through wet pastures which, just a few weeks earlier, would have been miserable with mosquitoes. Yaks, yak-bred cattle, camels, goats and sheep are herded in the meadows west of town where we camped. There was ample ground for a very large group to camp here.

This first evening allowed us time to discuss the strategy for the expedition with the Nomadic Expeditions guide, Baatar Navaansharav, called Baagi. This was especially necessary because the goals of the expedition were not as concrete as many, being mainly the creation of a series of images that would inspire conservation awareness in potential supporters of the local snow leopard conservation efforts. Rodney Jackson, of The Snow Leopard Conservancy, had additionally asked that we look for and document any sacred sites or traditions that might be relevant and useful towards encouraging snow leopard conservation. We determined that we, on horseback, would be capable of transects through the mountains that the support camels could not use, and certainly the vehicles could not reach at all. Still, our camels, while not as agile as horses, could each carry approximately the full load carried by the Toyota Land Cruisers, and gave us greater access to less traveled areas. These proved to be fertile areas for snow leopard signs.


The local Tuvan and Kazakh herders were switching from camels to trucks for their seasonal move from summer to winter pastures. This meant that there were many truck roads that really only saw traffic once or twice a year during the migration. We would follow these at times, as they are obviously the preferred conduits between valleys, but even when the camels followed the truck roads, we would ride laterally as far out as possible from the road to scout. As road use increases, human activity and attention are concentrated more along trackways. Slower, more free-ranging horseback and foot travel has the potential to uncover much more detail. In fact, the speed and visual isolation of vehicle travel almost insures that you will only see what you've already planned to see. We wanted more visual access.

I had given myself a budget of discretionary days with which to execute paintings, but had assumed that we would stretch the large canvases the day before. The guides assumptions were that we would cover as much ground as possible on horseback and arrive at each camp rather late. This would leave no time for stretching, since a late arrival in camp means all energy must be devoted to set up before nightfall. People unfamiliar with painting often miscalculate the prep time and breakdown time involved, not to mention the time spent actually executing an image. All this early discussion led to new logistical thinking, which our guide Baagi, was adept and enthusiastic with. We would need to shorten the marches and sacrifice project sites at the back end of the proposed itinerary. Once all this was discussed and understood, we were ready to go.